Home
The Art of Tomorrow
The Strategic Horizon Network is a unique, collaborative learning community with an agenda focused on organizational learning. The height of our expertise lies in alternative futures, disruptive innovation, and strategies for transformation that lead to extraordinary performance and growth in community colleges. Collectively, we courageously reimagine and transform our work to ensure that our communities thrive.
Futuring A learning community that encourages trend watching, forward projection, and sustainability options for community colleges.
Innovating A collaborative effort to rethink established processes in higher education by introducing new methods and applications.
Transforming A network dedicated to fostering leadership opportunities at any level of the institution and exposure to new ideas in multiple settings.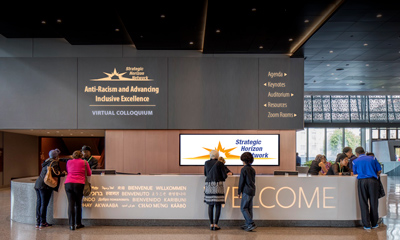 Upcoming Colloquium:


Positive Deviance and Vibrant Culture

Due to health and travel concerns related to COVID-19, this event has been postponed. We are in the process of creating a virtual event in November. Details will be announced as soon as possible.
---