Home
The Art of Tomorrow
The Strategic Horizon Network is a unique, collaborative learning community with an agenda focused on organizational learning. The height of our expertise lies in alternative futures, disruptive innovation, and strategies for transformation that lead to extraordinary performance and growth in community colleges. Collectively, we courageously reimagine and transform our work to ensure that our communities thrive.
Futuring A learning community that encourages trend watching, forward projection, and sustainability options for community colleges.
Innovating A collaborative effort to rethink established processes in higher education by introducing new methods and applications.
Transforming A network dedicated to fostering leadership opportunities at any level of the institution and exposure to new ideas in multiple settings.
Virtual Colloquium:


Anti-Racism and Advancing Inclusive Excellence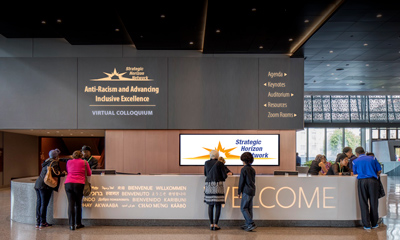 Due to health and travel concerns related to COVID-19, the Strategic Horizon Network will be hosting a virtual event on November 9 & 10, 2020. Beyond the current pandemic, the year 2020 has brought racial and social unrest not seen in the country for nearly 50 years. It is a moment that the nine member Network will not let pass. Undeterred by these unprecedented times, the November colloquium will provide a laser focus on anti-racism and systemic inclusion to expand our individual and collective perspectives to inspire a call for institutional action beyond our current efforts.
---